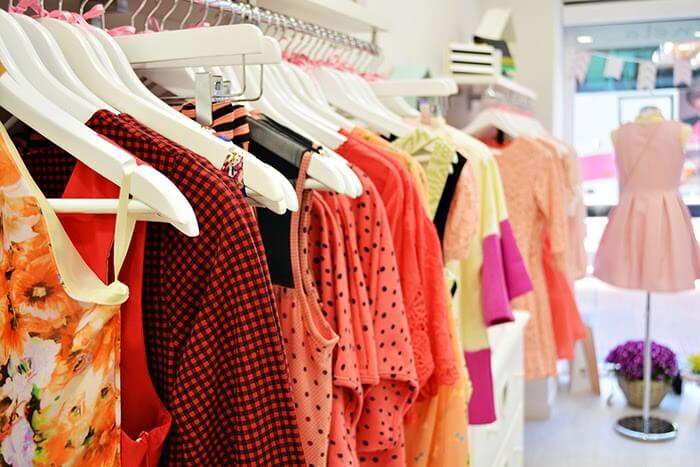 Cuando las buenas noticias llegan por partida doble hay que celebrarlas por todo lo alto pero si, además, esas dos noticias son de buenas amigas, entonces hay que tirar la casa por la ventana. Y así lo hicimos, hace unos días, durante una inauguración muy especial.
A new women's clothing shop has just opened its doors in Madrid with amazing designs 100% Made in Spain as

Daluna

. If you love fashion, you will love

Nineta Chamberí

so don't forget to stop by.
De sus delicadas perchas blancas, adornadas con románticos lacitos rosas, cuelgan diseños de Bárbara Torrijos o Pepa Loves que contrastan con la originalidad de los objetos molones de Mr. Wonderful .
Pero sin duda, la colección estrella de Nineta Chamberí (al menos para mí) es la de

Daluna

. Compuesta por preciosos vestidos de cocktail y de noche, la propuesta de la diseñadora valenciana para esta primavera-verano es una explosión de color a base de líneas sensuales que ensalzan la figura de la mujer mediante cortes a la cintura. Además, y como es habitual en Daluna , no faltan las asimetrías y los espectaculares escotes en la espalda que solo ella es capaz de hacer. Mucho azul en todas sus variantes, klein, turquesa y cielo, rojos y corales y la eterna combinación blanco y negro son los tonos que colorean sus piezas para la nueva temporada. ¿Mi favorito? el modelo flor (foto a continuación de la bicicleta). Con él sueño, desde lo que vi, para llenar de movimiento, luz y flores mis días, tardes y noches del tan esperado verano.