Mientras la mayoría de la grandes marcas de moda española evitan decir dónde producen sus prendas, una nueva corriente de diseñadoras comprometidas con la industria a la que pertenecen y el país que les vio nacer, presumen de todo lo contrario.
Daluna, La Condesa, MY/TE y Planet Palmer son cuatro proyectos de jóvenes talentos nacionales que fabrican sus colecciones íntegramente en España y, al decirlo, sacan pecho.
While most of the Spanish fashion brands avoid to say where their clothes are produced, a stream of young designers committed to the industry and to their country are doing the opposite. Daluna, La Condesa, MY/TE and Planet Palmer are four young spanish designer projects with collections completely made in Spain. A big reason to be proud of.
Laura Alemany es el alma de Daluna [
http://www.lauradaluna.com/
]
marca que destaca por sus diseños femeninos y en la que confían numerosas actrices y presentadoras españolas. Para Laura, la producción en España es sinónimo de calidad y trabajo artesanal por eso, no sólo lo cuenta en su web como carta de presentación de sus colecciones, sino que además lo ha impreso en las etiquetas de cada prenda junto a una preciosa leyenda que dice: "Tu prenda está creada con mucho cariño".
Laura Alemany is the soul of Daluna

[

http://www.lauradaluna.com/

]

brand known for its lovely dresses in which many spanish actresses have already relied on. For Laura, manufacturing in Spain is synonymous to quality, so she not only has published it on its website as a presentation of her collections, but also she has printed it on the clothing labels together with a lovely legend that says "Your piece is created with love."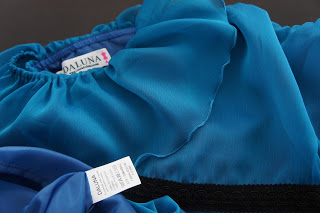 "Orgullosamente hecho en España" es el grito que reza, literalmente, por todo el condado online de La Condesa [
http://www.lacondesa.es/
] propiedad de Marina Conde. Conocida por sus flamantes chaquetas de estilo militar-aristocrático, esta joven diseñadora ha apostado, desde la primera colección, por expertas manos nacionales.
"Proudly made in Spain" is the claim published all over of La Condesa website

[

http://www.lacondesa.es/

].

Marina Conde is the owner of this brand known for its amazing militar-aristocratic jackets. Since its first collection, La Condesa just wanted expert spanish hands to produce each single piece.

La modelo y bloguera Mayte de la Iglesia se ha lanzado al mundo del diseño creando MY/TE [
https://my-te.es/shop/es/
] su propia firma de ropa. Ya va por la segunda colección de originales camisestas y sudaderas y afirma, rotunda, en su tienda online que cada pieza es una prenda especial diseñada y confeccionada con sello 100% Made in Spain

.
Mayte de la Iglesia, model and

blogger,

has jumped into the

design world

creating

MY/

TE

[

https://my-te.es/shop/es/

]

her

own

clothing company

. Mayte has already launched two

collections and in h

er online shop is said out loud that

each

piece of clothing is

100% Made in Spain

.
Planet Palmer [
http://www.planetpalmerproject.com/
] es el bebé recién nacido de Brianda Fitz-James Stuart, Ana Rodríguez e Isabel Fernández de Castro. Tres amigas que acaban de hacer realidad su sueño presentando su primera colección a base de prendas muy ponibles, con tejidos de calidad y donde el estampado es el protagonista. En su manifiesto prometen un compromiso con el comercio justo, con las cosas hechas con mimo y afirman enorgullecerse de fabricar en España de la mano de personas con una gran experiencia profesional de las que, sin duda, aprenden cada día.
Planet Palmer
[
http://www.planetpalmerproject.com/
]
is the baby of Brianda Fitz-James
Stuart, Rodriguez and Ana Isabel Fernandez de Castro. Three friends who have just made their dream come true presenting their first collection. In its manifesto promising a commitment to ensure fair trade and being proud of producing in Spain, along with great experienced people to learn every day from

.

Si ellas presumen de orgullo español, presumamos nosotros también. Y apoyemos la moda española, pero la española de verdad.
If they are proud of it, let's be proud as well. We need to support the Spanish fashion, but the real spanish one
.