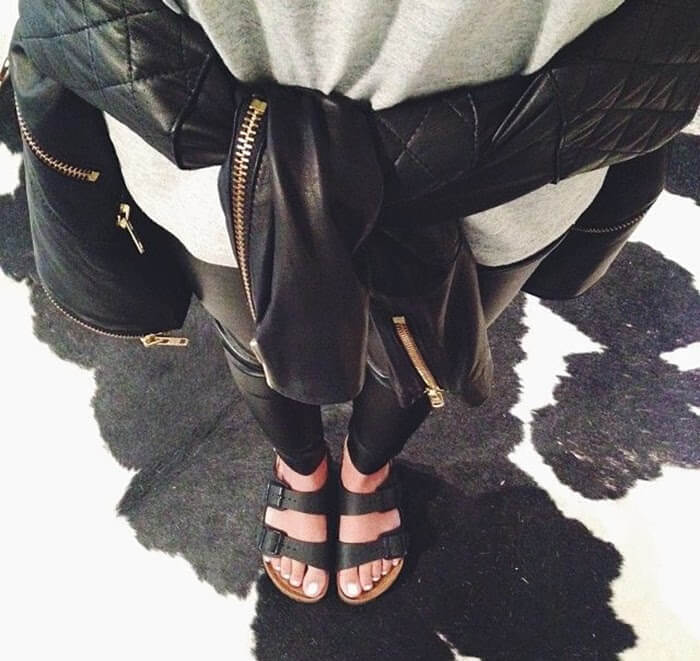 Llevo tres días que apenas duermo, tengo pesadillas. Sueño que las
Birkenstock
me persiguen y yo corro y corro pero no consigo librarme de ellas. Sí, esas sandalias alemanas que, hace no tanto, solo pertenecían a los pies de los turistas de pura raza que, además, lucían con calcetines blancos. Esas.
Pues las muy hábiles, de los turistas pasaron a varias 'it girls' que, con osadía y gracia, decidieron incluirlas en algunos de sus estilismos durante la temporada pasada. De ahí siguieron, tímidamente, formando parte del street style y muchas han sido las fotos que se han compartido en la red: looks rockeros, surferos o super chic ¡incluso con calcetines! Alucinante. Aquí eso no llegaría, pensaba yo. Hasta que hace tres días, en Zara (concretamente en la tienda de Argüelles - Madrid) dos chicas se las probaron, enloquecieron y se las llevaron. Y yo me quedé sin habla.
I can't sleep, I have nightmares. The Birkenstock sandals want to haunt me and eventhough I run very fast, I can't get rid of them. Not long ago, Birkenstock just belonged to tourists, those who loved wearing them with white socks. But now, since last season some ´it girls´ are wearing them in many of their street style photos: rock style, surfers, chic... even with socks! Amazing. I was sure this trend wouldn't be followed in Spain. Until last Saturday, when in Zara I saw two girls buying them! Speechless.
Queridas, queridos... es una realidad, hay que aceptarlo. Las Birkenstock ¡ya están aquí! Así que preparémosnos a su ataque porque, en pocas semanas, dominarán el mundo
.
We must accept it. Birkenstock sandals are becoming a must-have and very soon will rock the world.