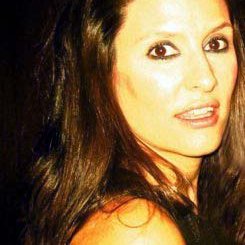 Me llamo Noelia Tapia, soy Licenciada en Marketing y Dirección de Empresas y Máster en Comunicación y Gestión Comercial. Llevo más de 15 años dedicada al mundo de la Comunicación, Publicidad y Marketing desarrollando 12 de ellos en puestos de responsabilidad en empresas de distintos sectores: moda, turismo y ocio, entre otros hasta 2009, año en el que comienzo a trabajar de freelance como Consultora en Comunicación, Marketing y Relaciones Públicas tanto para cliente final, como para agencias. En 2016 me incorporo a Atrevia como Key Account Manager del Departamento de Consumo. Además colaboro con varios medios online como redactora de contenidos de moda, belleza y estilo de vida.
My name is Noelia Tapia. I have over 15 years of experience in the world of Communication, developing 12 of them in different companies: fashion, tourism, leisure... Since 2008 I offer freelance advisory service in Communication and PR in fashion and lifestyle and I also collaborate as editor with some online media.
Después de tanto tiempo escribiendo para otros, decidí que era el momento de escribir (también) para mí y creé TaleStrip. Mi proyecto más personal – premiado en mayo de 2013 por la Revista Mujer Hoy (ABC) en la 2º Edición de sus premios Mujer IT- en el que hablo de moda y estilo de vida de una forma diferente, con contenidos de calidad y actualidad y yendo más allá de la noticia, para contar la historia.
En ocasiones con anécdotas personales o curiosidades del día a día que, incluso, nos arrancan una sonrisa

.
Para mí la moda, como la vida, se compone de historias, grandes o pequeñas pero historias al fin y al cabo. Todo depende de quién y cómo las cuente para que se nos olviden al instante o las recordemos eternamente.
After so many years writing for others, I wanted to do it as well for me, so I founded TaleStrip. My personal blog -

awarded by the magazine

Mujer Hoy

(ABC) in the II Edition of its MujerIT Awards-

where I write about fashion and lifestyle in a different way just with
current and quality content.
TaleStrip
goes beyond the news, to tell the story. Sometimes with personal anecdotes of everyday curiosities that makes us smile. Fashion, like life, is made up of tales, big or small but tales after all. It all depends on whom and how they tell them so we instantly forget or remember those tales forever.
En TaleStrip cuento historias cortas y largas. Historias d
e
presentaciones. De tendencias y street style. De ventas especiales y markets. De personas, lugares y momentos con ese "algo" diferente. Todas desde un punto de vista independiente y llenas de palabras bonitas.

TaleStrip has short tales or maybe long ones. Tales about collections. Magic people and magic places. Events and trends. Special sales and markets. All from an independant point of view and full of lovely words.
Gracias por acompañarme. Espero que disfrutéis leyendo el blog tanto como yo escribiendo todas y cada una de sus historias.
Thanks for reading

.

I hope you enjoy

it

as much as I

do

writting

all its

tales.