¿Quieres ser modelo y tener proyección internacional? Model Management, una de las redes más importantes del mundo para modelos, fotógrafos, agencias de modelos y profesionales de la industria, está organizando por cuarto año consecutivo "Fresh Faces 2013".
Se trata de un concurso internacional que tendrá lugar en 42 países (uno de ellos España) que se lleva a cabo por la agencia

Trends Models Management

y del que saldrán los dos mejores modelos del mundo (un chico y una chica) con un contrato internacional con el que poder desfilar en las principales pasarelas del mundo o ser portada de las mejores cabeceras de moda.
Want to be an international model? Model Management, one of the world's leading network for models, photographers, modeling agencies and industry professionals, is organizing the fourth edition of "Fresh Faces 2013". An international competition that will take place in 42 countries (one of them is Spain) by

Trends Models Management

agency in order to find the best two worldwide models (one man and one woman). The winners will have an international contract to be part of the main runways of the world or maybe starring the cover of the top fashion magazines.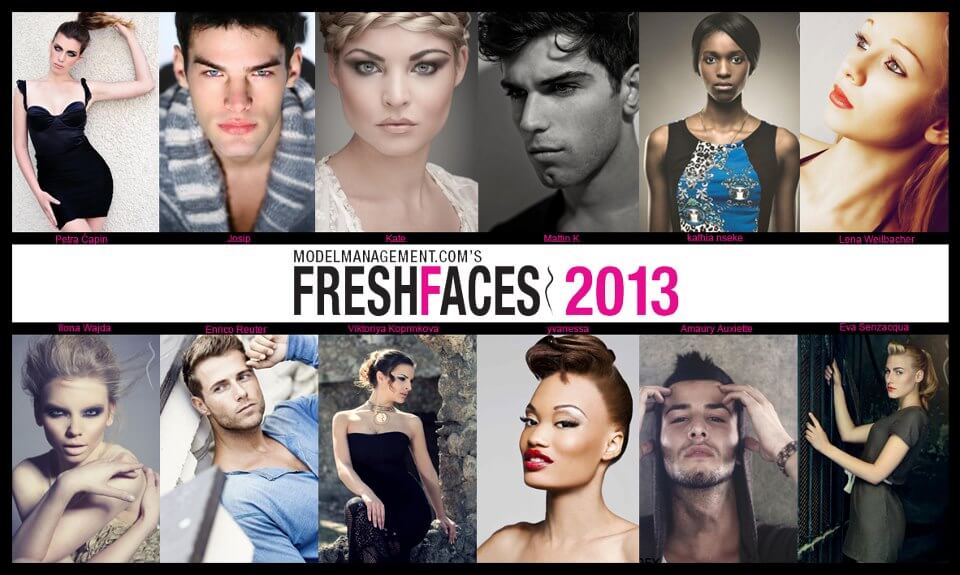 ¿Cómo participar? Registrándose en su web

AQUÍ

dentro del país al que se pertenezca o en caso de que ese país no forme parte del concurso, eligiendo el más cercano. Una vez el perfil es aceptado por la organización, se pasa a un primer proceso de votación por parte del público, a un segundo realizado por un jurado local y a un tercero y final formado por grandes expertos de la industria, alguno de ellos de la talla de Thomas Zeumer (resposable de las carreras de Claudia Schiffer, Eva Herzigova o Heidi Klum), que valorará el potencial de los que hayan resultado ganadores de cada país, para elegir entre ellos a los dos ganadores mundiales.
How to participate? Just entering your profile and lookbook on their website

HERE

within the country you belong or if that country doesn't participate, just choosing the closest. Once the profile is accepted by the organization, there will be a first voting process by the public, a second one by a local jury and the third and final one formed by fashion experts, some of them as Thomas Zeumer (responsible of Claudia Schiffer, Eva Herzigova and Heidi Klum), which will evaluate the potential of those who have been winners of each country to choose between them the two global ones.
¿Cuándo? La participacion y votación online, que durará hasta el mes de septiembre, ya está en marcha. Los 10 modelos (de cada país) que más votos reciban pasarán a la final nacional que se organizará en los 42 países participantes; de ella saldrán dos ganadores nacionales (un chico y una chica) que lucharán por ganar la gran final mundial que tendrá lugar en Barcelona el próximo 15 de octubre.
When? Participation and online voting are already going and will last until next September. The 10 models of each country with more votes will be on the national final that will be held in the 42 participating countries. The two national winners (one man and one women) will go to the world's final on october 15th in Bacelona (Spain).
¿Te animas? Si siempre has querido ser modelo ésta puede ser tu oportunidad. Si ya lo eres pero te falta dar el salto para tener un mayor reconocimiento tal vez éste sea el trampolín que estabas buscando. Y si no lo eres, ni quieres serlo, pero conoces a alguien que sueña con ello desde hace tiempo, no tardes en contárselo.
Want to join? If you've always wanted to be a model this is your chance. If you already are but you need a little jump for international recognition maybe this is the springboard you were looking for. And if you're not, and don't want to be, but you know someone who dreams with it since always, please share this information with her/him asap!
El mundo busca dos caras nuevas. ¿Quiénes serán?
The world is looking for two new faces. Who they will be?
Más información |

More information