En Madrid no tenemos playa, lo sabemos. Hasta existe una canción que nos lo recuerda. Pero, entre otras muchas (y maravillosas) cosas, tenemos piscinas en el cielo. Un cielo que, además, es de los más bonitos, más pintados y más famosos del mundo.
Si eres de los que
este verano te quedas o vienes a Madrid este post es para tí.
Para que te evadas del calor, del estrés y del rugir de la capital en alguno (o en todos) de mis tres oasis favoritos.
We don't have beach In Madrid, we know that. In fact there is a song that reminds us so. But, among other (and wonderful) things, in Madrid we have pools in the sky. A sky that is one of the nicest, most painted and famous in the world. If this summer you are staying or coming to Madrid this post is for you. My three favourite oasis will help you to avoid from heat, stress and the roar of the city.
Hotel Emperador
De día: Hacerse unos largos en su inmensa piscina (de hasta tres metros de profunidad) y después relajarse en la zona de tumbonas contemplando la Torre de Madrid.
De noche: Degustar sus ricos snacks. Pedir un daikiri. Y dejar que te envuelva el cielo de Madrid.
By day: Swimming in its huge and deep pool (of up to 3 meters) and then relax seeing the Torre de Madrid.
At night: Snacks. Daikiris. And the famous sky of Madrid. What else?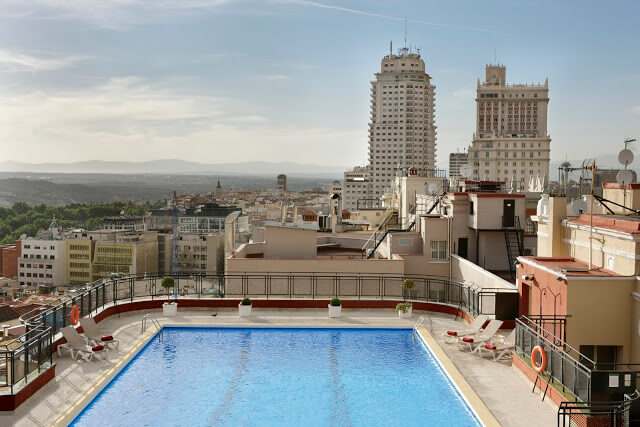 Room Mate Oscar
De día: Sentirse en el paraiso a pesar de estar en el corazón de Chueca, la zona más bulliciosa (y
divertida) de Madrid.
De noche: Disfrutar de sus 360º de vistas bajo las estrellas y en la mano su conocido (y deseado) Mojito Room Mate, elaborado con champagne Veuve Clicquot.
By day: Being on paradise despite the fact of staying in the heart of Chueca, the funniest and noisiest part of Madrid.
Evening: Enjoying its amazing views under the stars while you are drinking its wellknown Room Mate Mojito, made with champagne Veuve Clicquot .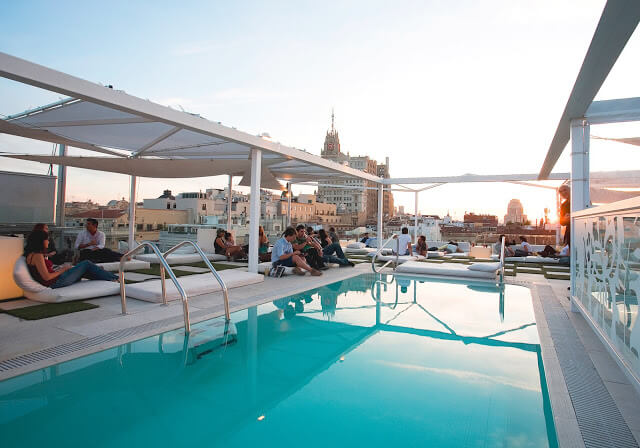 Hotel Santo Domingo
De día. Recorrer (con la vista) la Gran Vía, la plaza de Santo Domingo o el Madrid de los Austrias, mientras te relajas en su piscina es un paseo de lo más refrescante.
De noche. Mirar dirección a la Casa de Campo, donde el sol se oculta cada día, mientras se celebran sus "Sunset Lookers" regados de cócteles y acompañados por una selección de exquisitos pinchos frios.
From day. Gran Via st, Plaza Santo Domingo or Madrid de los Austrias area, from its pool its a very refreshing walk.
Night. Looking toward the Casa de Campo horizon, where the sun sets every day while we can celebrate their "Sunset Lookers" with cocktails and delicious snacks.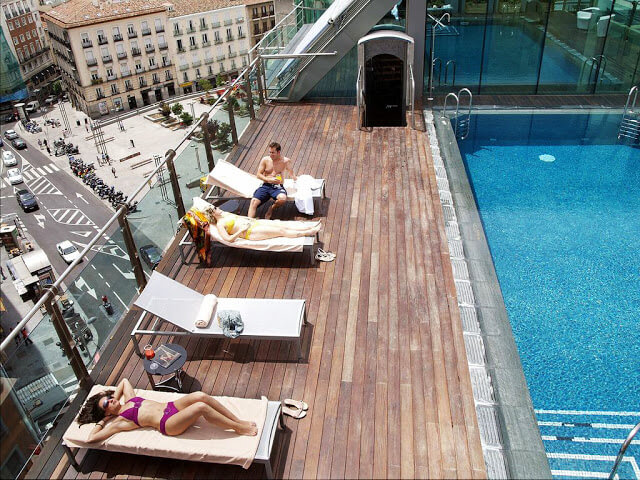 De Madrid, pasando por sus mejores piscinas, al cielo.
From Madrid, swimming in its best pools, to heaven.