La crisis golpea a (casi) todos por igual, pero mientras unos se lamentan, otros se reinventan. Ian Berry, director de arte británico, eligió lo segundo cuando perdió su empleo en plena recesión. Sin dejar de lado el mundo artístico que era lo que le llenaba y sabía hacer, decidió cambiar el chip y buscarse la vida de otra manera.
¿Cómo? Utilizando (o más bien reutilizando) vaqueros usados de colores y tonalidades diferentes para crear obras de arte. Obras nunca vistas que recrean paisajes urbanos, retratos o escenas del día a día.
Crisis hits (almost) everyone, but while some complain, others try to reinvented themselves. Ian Berry, British art director, chose the latter when he lost his job owing to the recession. Without neglecting the artistic world what he was born to, he decided to change his mind and do something different for make a living. How? using old jeans in different colors and shades to create works of art. A new art forms never seen before that recreate cityscapes, portraits or day a day scenes
.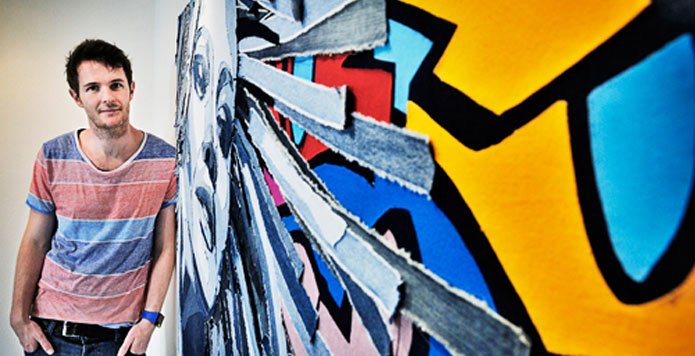 Ian Berry |

© Denimu
En lugar de paleta de color, Ian confecciona su paleta "denim" recortando pequeños trozos de cada parte del pantalón, según la tonalidad que busque y aplicando legía cuando necesita una variante más drástica. Después los encola y el resultado son lienzos que, de lejos, tal vez parezcan pintura pero de cerca (o con lupa como he hecho yo) te dejan con la boca abierta por su maravilloso espectro de texturas.
Instead of color palette, Ian manufactures its own "denim palette " by cutting small pieces of each part of the pants, according to the tone he is looking for. Sometimes he applies lye when needs a more drastic variation. After gluing them the result are canvases seen as painting from far but up close (or very closely as I did) will leave you speechless by the wonderful range of textures they have.
Aficionados del arte por todo el mundo y prensa internacional ya conocen el ingenio de este joven británico de 28 años que ha sabido ver en los hoy tan famosos "denim" un nicho de mercado - sus obras se venden hasta por 4,500 libras cada una - más allá de la simple moda.
Worldwide art fans and international press already know of this young british talent - 28 years old- that saw in the now so famous "denim" a new niche market - their works sell for up to 4.500 pounds each - more beyond traditional fashion.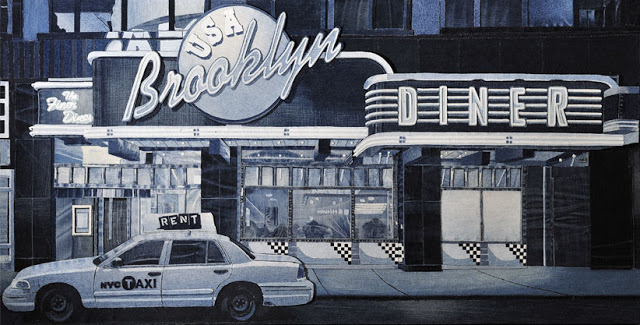 The Brooklyn Diner, Denim on Denim |

© Denimu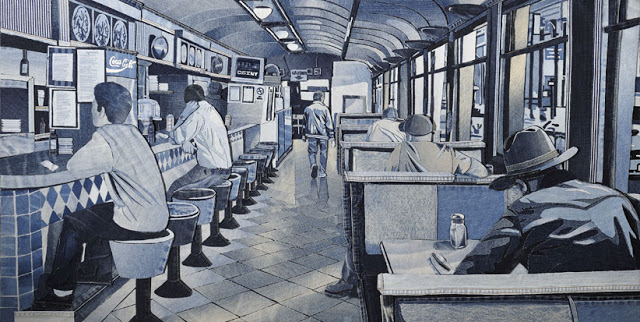 The Cheyenne has gone, Denim on Denim |

© Denimu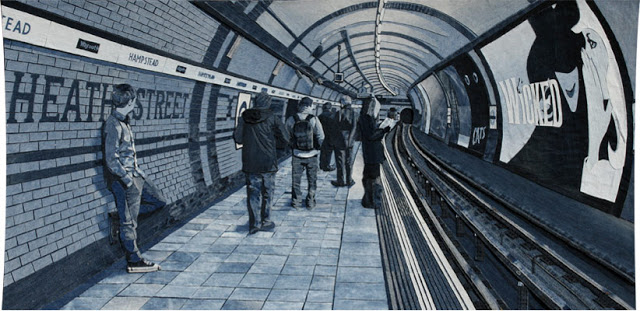 Waiting, Denim on Denim |

© Denimu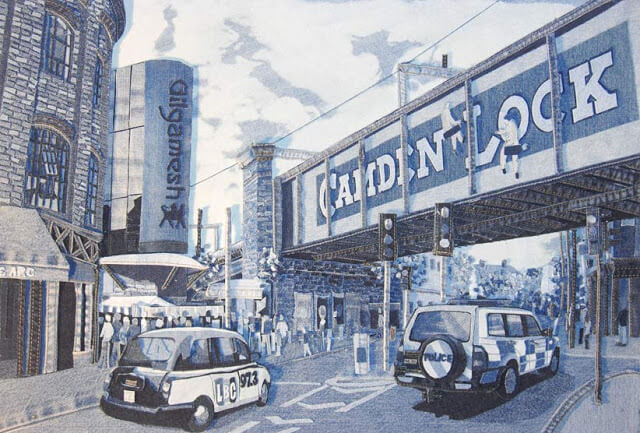 Camden Lock, Denim on Denim | © Denimu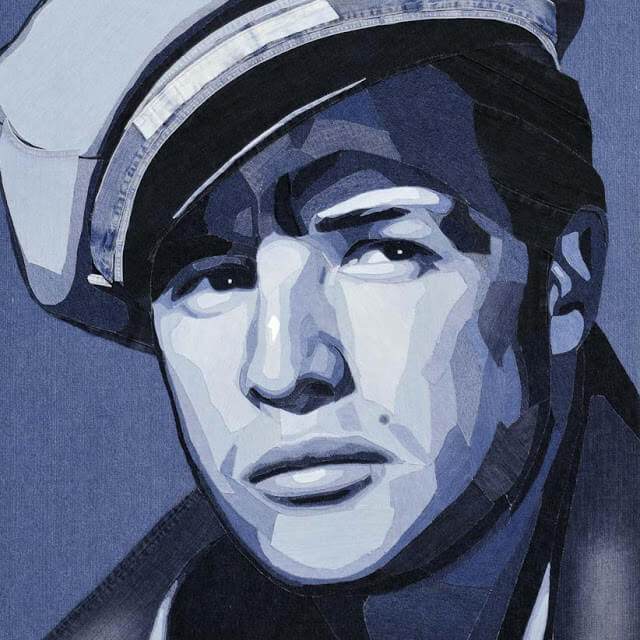 The Wild One, Denim on Denim |

© Denimu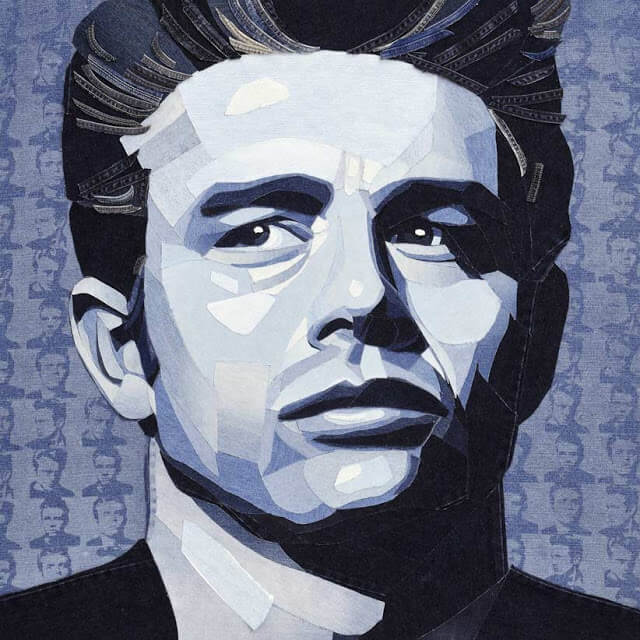 The Rebel, Denim on Denim |

© Denimu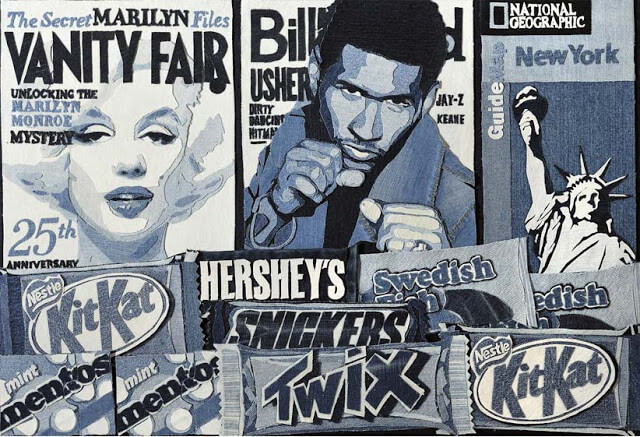 Newsagent, Denim on Denim |

© Denimu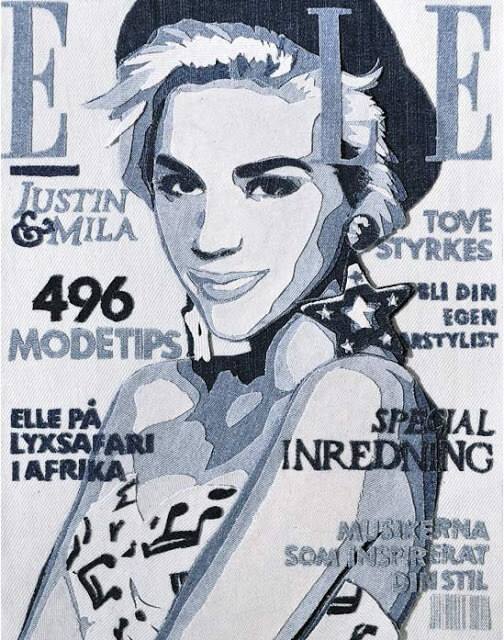 ELLE Magazine Cover, Denim on Denim |

© Denimu
Estos son sólo algunos de sus maravillosos trabajos. Os invito (encarecidamente) a que visitéis su web y os deleiteis con su obra completa. De verdad, merece la pena.
These are just few samples of his amazing work. Please visit the official website to be delighted with the whole work. Believe me, it's worth.
Más información |

More information