Debo admitir que me cuesta un poco entender la relación entre "alfiler que se abrocha quedando su punta dentro de un gancho para que no pueda abrirse fácilmente" o más conocido como imperdible.
I must to say that I don't understand very well the relation between "a wire pin that has a cover at one end and is bent round so that its point can be held safely inside the cover" or more commonly known as safety pin
.
Y "m ovimiento musical aparecido en Inglaterra a fines de la década de 1970, que surge con carácter de protesta juvenil y cuyos seguidores adoptan atuendos y comportamientos no convencionales" o, lo que ahora está tan de moda: el punk .
And "movement among certain young people who are opposed to the values of money-based society and who express this in loud violent music" o what is so trendy now: Punk.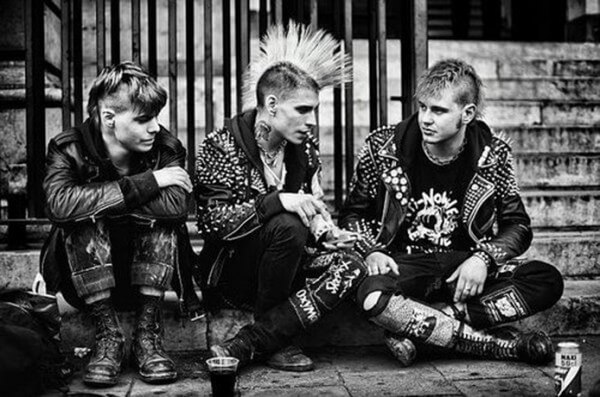 Pero "haberla hayla" está claro. Y si no, que se lo digan a los diseñadores que, a golpe de imperdible, presentan sus nuevas colecciones más punk coincidiendo con la exposición "Punk: Chaos to Couture" en el Metropolitan Museum of Art de Nueva York.
But it exists for sure! and the evidence are all the new punk collections some designers have launched coinciding with the "Punk: Chaos to Couture" exhibition at the Metropolitan Museum of Art in New York.

Kitty Anarchi
, Charlotte Olympia & Tom Binns collection
Bodhi Quilted Safety Clutch
Marc Jacobs Safety Pin Keychain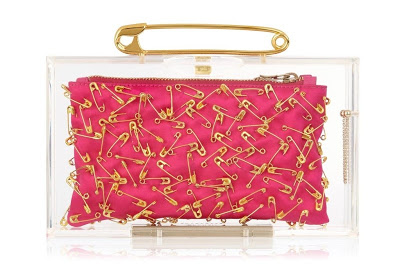 Punk Pandora,
Charlotte Olympia & Tom Binns collection
No sé que pensarán los precursores del movimiento, pero que se preparen porque los nuevos punks del imperdible "venimos" con fuerza.
Y digo "venimos" porque esta historia tiene, además de imperdibles, miga. Hará unos dos años, quedé maravillada por una cazadora de Moschino
decorada con imperdibles de una forma exquisita. Tanto me impactó su estética (para nada la relacioné con el punk) que quise conseguir un efecto "similar" en mi vieja cazadora vaquera (previamente customizada con tachas). Desgraciadamente, el resultado quedó lejos de parecerse al de la preciosa chaqueta de Moschino, pero a mí me gustó. Así que decidí lucir mi creación con la cabeza bien alta a pesar de la cara que ponían familiares y amigos al verme con ella.
Pero la vida, que suele ser muy caprichosa, ha querido darme la razón. Los imperdibles molan y, ahora, resulta que son incluso tendencia. !Ay queridos míos! os habéis pasado todo este tiempo pensando que estaba loca y no, no, no, lo que estaba era ¡punk!.
I don't know what will be thinking the genuine precursors of punk movement, but they must be ready because the new pin punks generation "we" are coming
.
I say "we" are coming because this is a funny tale. About two years ago, I fell in love with a Moschino jacket decorated with safety pins in an exquisite way. I liked so much (never thinking in the punk style) that I tried to get something simiar making a "DIY" on my old denim jacket (previously customized with studs). Unfortunately, the result was far from the beautiful Moschino jacket, but I liked it a lot. So I decided to wear "my design" despite the fact that my family and friends didn't like it when they saw me on it. But time has proved me right, safety pins are cool and now it turns out that they are even a fashion trend. My dearest family & friends: all this time you have been thinking I was crazy, but I wasn't. I was punk!.