El pasado 3 de abril os presentaba

AQUÍ

la

primera historia de TaleStrip. Hoy, 11 de junio (dos meses, ocho días y 41 historias más tarde) os cuento, como niña con zapatos nuevos, que he ganado un premio en la II Edición de los Premios MujerIT de la Revista Mujer Hoy. Un premio que significa en ser la cuarta finalista dentro de la categoría de Moda y que recibo hoy, en Teatriz, en un evento organizado por Vocento.
Last April 3rd I wrote the first tale of TaleStrip HERE. Today, Junte 11th (two months, eight days and 41 tales later) I'm here again but happiest as ever, to tell you that I'm one of the winners of a the Second Edition of MujerIT awards organized by the spanish fashion magazine "Mujer Hoy". An award that means to be the fourth finalist in the category of Fashion which I'm receiving today in a event organized by Vocento.
Tal vez, alguno penséis que un cuarto puesto no es merecedor de mucha celebración. Pero para mí, este reconocimiento tras sólo dos meses y ocho días de camino recorrido, no es que me sepa a gloria, es que me hace levitar.
Perhaps someone thinks that being fourth finalist is not worthy of much celebration. But for me, this recognition after only two months and one day on the track, makes me feel in heaven.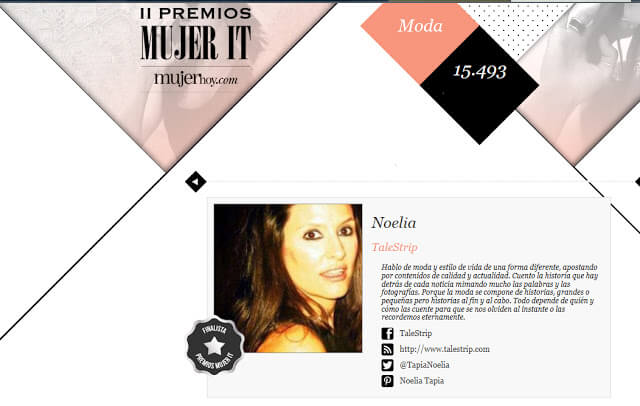 Pero lo mejor de esta historia, (la número 42 que pasará a la posteridad del blog como la más hermosa de todas) no es ni la levitación, ni el premio en sí, sino lo que hay detrás de él: las toneladas de cariño y apoyo de la gente te quiere, que te sigue, que te lee y que, por si fuera poco, te regala palabras que son casi poesía.
But the best of this tale, (the number 38 will go down in posterity's blog) as the most beautiful of all) is neither the heaven feeling, nor the award itself. The main important thing is all support received by people love me, follow me and read me, who also have given me words so beautiful as poetry.
Muy a mi pesar, sólo he conseguido algunas
(recuperarlas todas ha sido técnicamente imposible y que conste que he suplicado a la organización) pero que, por supuesto, representan a todas. Estas palabras son las verdaderas protagonitas de este premio y de esta historia.
Unfortunatelly I've only got a few (getting all of them It has been imposible by the organization) but here they are as the real protagonitas of this tale.
---------------------------------------------------------------------------------------------------------------

Noelia interpreta la moda con ilusión, glamour y carácter

Por la visión actual y contemporánea que tiene del mundo de la moda y las tendencias, e l blog es muy interesante
Es una gran contadora de historias, con contenidos geniales y con un punto de vista diferente. Me gusta!
Por hacer protagonistas a personas y relatos que pasan desapercibidos con sensibilidad y respeto
Frescura, originalidad y profesionalidad

Me gusta su estilo y modo de contar las cosas. Su blog es absolutamente diferencial. Es muy entretenido y está muy bien.


Tiene opiniones que se ajustan a la realidad

Contenido muy interesante y novedoso + historias únicas, lo convierten en un blog muy muy recomendable
Porque es un blog de moda diferente. Por fin!
Porque tiene ciertamente mucho estilo, es un gustazo leerla!!
Por el alto contenido de información y calidad de sus posts. Buscando siempre lo último,
tendencia y novedades

Es diferente, sutil y tan especial como ella

Me gusta este blog de moda porque es diferente a los demás y explica las cosas con sencillez y naturalidad. Se lo merece

La página está orientada a la mujer de hoy, con temas de interés y cosnejos últiles no cargantes
Noelia es una blogger así como persona inspiradora y con gran personalidad y carisma. Inevitable seguirla!
Es fresca y natural, me encantan sus fotos, tiene un buen hacer que promete, un soplo de aire fresco
Por ganas, porque es algo mas que una que se hace fotos y porque escribe fantásticamente bien

Sin duda alguna, ¡mi blog de moda favorito! Fresco, divertido y sobre todo con mucha historia.
Por su sentido del estilo y su espíritu creativo; porque puede marcar tendencia combinando innovación y buen gusto
Su estilo es divertido, nos hace disfrutar con la moda
Me parece tremendamente interesante todo lo que aporta en su blog y lo hace de un modo original
TaleStrip sin duda! Por su punto de vista innovador, fresco, único y por lo novedoso de sus contenidos
Por su naturalidad y sencillez con la que expone todo para llegar a toda la gente
Ofrece un punto de vista totalmente novedoso sobre moda y estilo de vida. Es muy interesante, práctico, elegante, ...
Por su ingenio y creatividad... un blog muy interesante
Noelia is very innovative
Porque es una persona
intrépida
y atrevida, que ha creado un blog para disfrutar de su gran
afición
y trabajo
Porque, además de ser una IT GIRL es una persona entusiasta, apasionada, mágica e incansable
Noelia debe ser la ganadora no sólo por lo que cuenta, sino por como nos lo cuenta
Porque hace de la moda algo mucho más sencillo y divertido!
Es natural, moderna, simpática, alegre y un sinfín de adjetivos que no son capaces de describirla. Me encanta.
Es un estilo diferente, es algo nuevo y fresco no existe detrás ninguna manipulación a la venta
Porque intenta ir más allá de la moda "normal" y devolverle el sentido de expresión individual
Es trabajadora, eficiente y le encanta su trabajo....y no hay nada mejor que una persona que disfruta con lo que hace
Noelia, se merece ganar porque ES UNA MUJER DE HOY: blogger, trabajadora, fashion, madre, amiga y maravillosa persona
Debe ser la ganadora porque es una persona ESPECIAL: Emprendedora, luchadora sin igual, amante de las pequeñas cosas ...
Brilla con luz propia , tiene un estilo increíble y es AUTÉNTICA
Su blog es fresco, interesante y muy chic!
Por moderna, dinámica, atrevida y por ser una mujer de su tiempo

Porque es una mujer actual y su blog está lleno de vida y de novedades
Por su valentía en el lanzamiento de este proyecto y porque cuenta las cosas de manera sencilla

Porque mima mucho lo que hace y el resultado es fresco y de calidad. Y porque tiene un toque muy diferente a lo que hay
Simplemente.... Es la mejor
Sencillamente porque creo que vive todo con pasión incluso su trabajo y es espectacular
Porque sabe transmitir a la perfección la
información
que necesitamos
Presenta la moda que está en todos los ordenes de la vida con gran naturalidad. En el vestir tiene gracia y belleza
Por su esfuerzo y porque creo que es muy interesante lo que cuenta en su blog
Its fun and concise
Me parece tremendamente interesante todo lo que aporta en su blog, lo hace de un modo original
Porque intenta ir más allá de la moda "normal" y devolverle el sentido de expresión individual
--------------------------------------------------------------------------------------------------------------------------
English readers: I'm sorry but I haven't translated the quotes just in case I could change any of the personal meaning
--------------------------------------------------------------------------------------------------------------------------
Qué de palabras bonitas. Y las que faltan. Ojalá algún día tenga la oportunidad de devolveros, en algún momento de vuestra vida, palabras así. Mientras tanto os regalo ésta: GRACIAS. Una palabra que, a pesar de uso y cotidianidad, a mí me sigue pareciendo de las más bonitas del diccionario. Sobre todo cuando se dice de verdad y desde lo más profundo del corazón
.
A todos, GRACIAS.
What a lovely words. Hopefully someday I could have the chance to give you back words like these. Meanwhile here I am with: THANK YOU. One of my favourite sentences when it's said from the bottom of the heart..
To all, MANY THANKS.