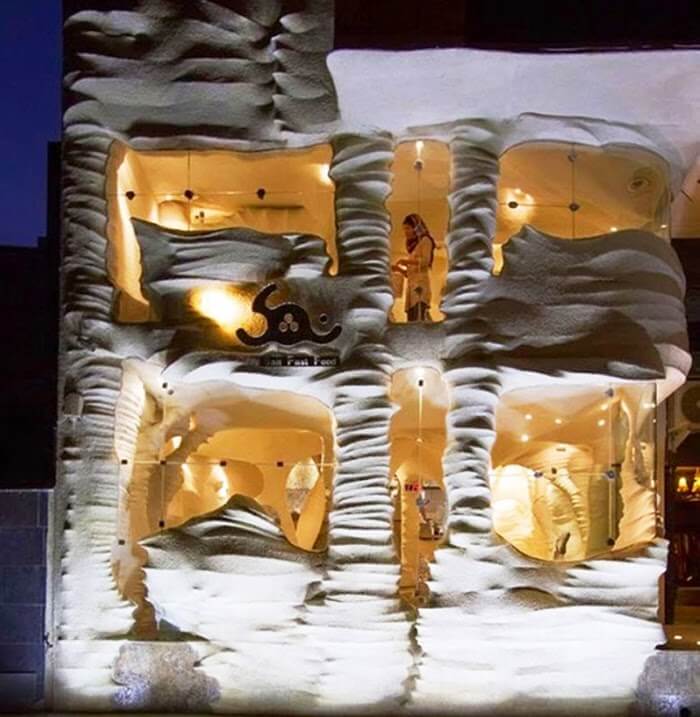 Existe un restaurante construido solo con sal que, además de bonito por su diseño y originalidad, limpia el aire de la ciudad donde ha sido construido.
There is a restaurant made entirely out of salt which is not only amazing but also cleans the city atmosphere where has been built.
Los afortunados son los habitantes de

Shiraz

(Irán), ciudad donde existen numerosas minas de sal. Lejos de verlo como algo negativo, la empresa

Emtiaz

lo convirtió en el material perfecto, ecologicamente hablando, para construir un restaurante ya que la sal no solo tiene propiedades desinfectantes sino que, además, cuando se propaga en el ambiente filtra el aire contaminado. El diseño es una representación, en versión moderna, de las cuevas y minas de sal naturales de la zona. Si ya tenía ganas de conocer Irán, entre otras cosas porque mi querida amiga Shookoo y su marido Reza viven
allí y les debo una visita, ahora tengo otra y muy salada.
The city is Shiraz (Irán) and the project has been developed by

Emtiaz

. If I had already a very good reason to visit Iran - my lovely friends Shookoo and Rezabut live there- now I have another and salty one.