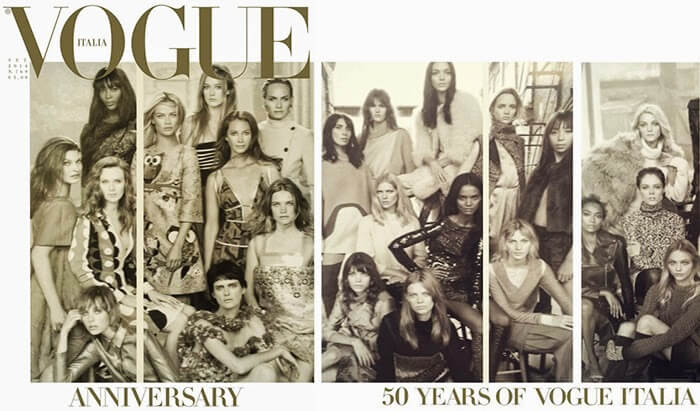 Vogue Italia

, la biblia de la moda que más ha dado que hablar por sus producciones arriesgadas y cargadas de mensaje, cumple 50 años.
Vogue Italia turns 50. For this anniversary the magazine has made its latest issue the heaviest of all the times (884 pages) and has released www.voguearchive.it with some information for free.
Un aniversario que celebra, por un lado, haciendo de su último número el ejemplar más pesado de todos los tiempos -nada más y nada menos que 884 páginas con un portada desplegable y protagonizada por las 50 mejores modelos de hoy y de ayer y, por otro, lanzando el archivo digital de la revista www.voguearchive.it con secciones gratuitas y otras previo pago. En este tiempo muchas de sus portadas (todas siempre a cargo del fotógrafo Steven Meisel) y editoriales han dado la vuelta al mundo por su contenido provocativo y reivindicativo con un objetivo claro: utilizar la moda como altavoz para gritar opiniones más allá de las tendencias. He aquí mis cinco favoritas.
During this time many of its covers (all by the photographer Steven Meisel) and editorials have been noticeable around the world for its provocative content but always with a clear aim: use fashion as a loudspeaker to shout opinions beyond trends. Here are my top five.
Año 2005 - de la mano de Linda Evangelista- plasma a modo de burla la adicción a la cirugía estética que tienen muchas famosas.
Year 2005 - With Linda Evangelista as starring the editorial mocks the addiction that some celebs have to cosmetic surgery.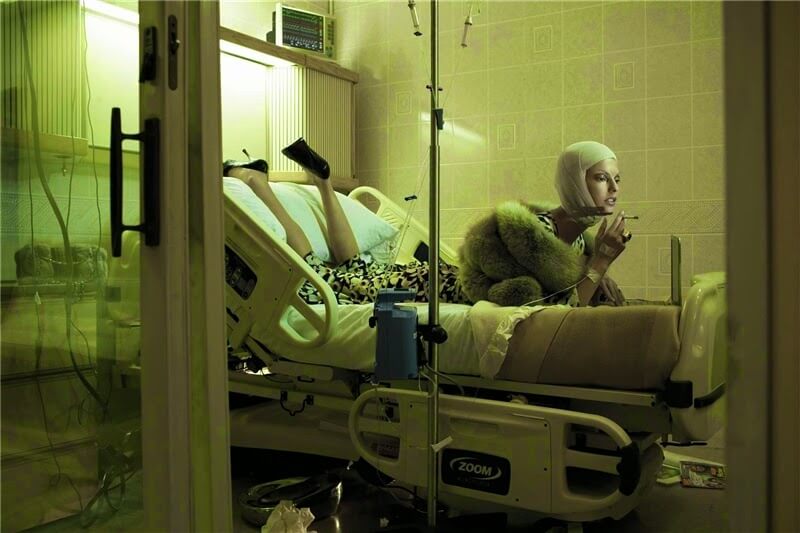 Año 2008. Dedica el número de julio, llamado
"A black Issue",
a la belleza de las modelos negras. Fue el número más vendido de la historia de la revista.
Year 2008. The July Issue called "A Black Issue" is focused just on black models. It was the biggest seller in the magazine' s history.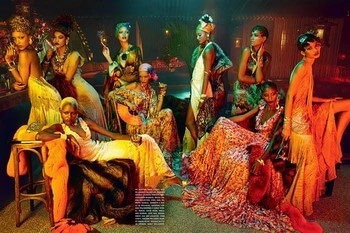 Año 2010. Reivindica la marea negra causada por la Brititsh Petroleum en el Golfo de México embadurnando de fuel a las modelos.
Year 2010. Vindicates the oil spill caused by British Petroleum in the Gulf of México covering the models' skin with fuel.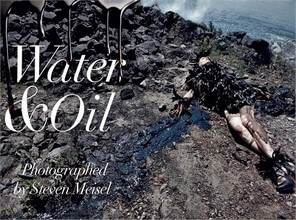 Junio 2011. Dice sí a las tallas grandes apostando por mujeres entradas en carnes semidesnudas o con ropa interior.
June 2001. Supports women at any size.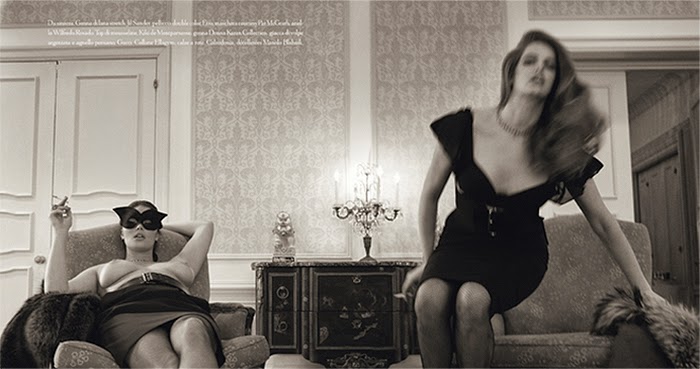 Año 2012. Busca concienciar contra el maltrato machista reproduciendo mediante el maquillaje y escenas escalofriantes la huella que deja en la mujer.
Year 2012. Fight against abuse the women.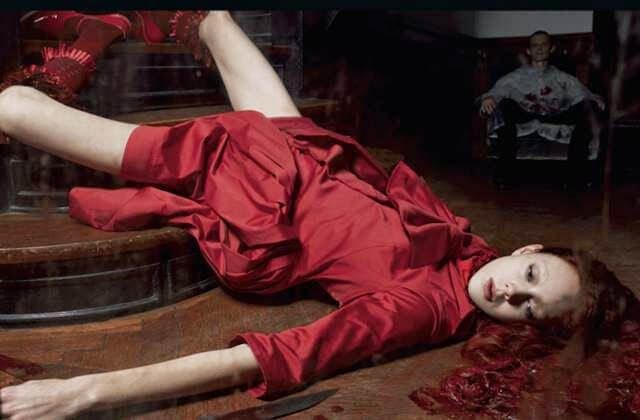 ¡Feliz 50 cumpleaños Vogue Italia, no cambies!
Happy 50th birthday Vogue Italia, keep walking to the same direction!