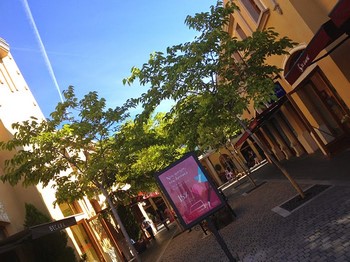 ¡Estamos de vuelta! Llegó el 8 de septiembre y toca "volver al cole". Una vuelta a la que menos mal que llegamos con las pilas cargadas, porque tiene de todo en términos fashionistas: fashion weeks, VFNO, press days, fiestas... muchos "saraos" a los que asistir vestidos con un toque diferente. Las Rozas Village (Madrid) lo sabe y quiere ayudarnos a preparar la reentré de nuestro armario con estilo pero, también, con descuentos adicionales.
If you are coming to Madrid this week looking for shopping don't miss the 15% additional off on purchases over 150 € The Chic & Luxury Outlet

Las

Rozas Village

is offering until 14th September.
Hasta el 14 de septiembre ofrece, en casi todas las tiendas, un 15% adicional en compras superiores a 150€. Además, si como yo tienes suerte y coincide que algunas marcas tienen su propia promo, la suma de la rebaja resulta más que interesante. Y como todo triunfo ha de celebrarse, nada mejor que picar algo en alguna de sus terrazas. Siempre son una delicia, pero ahora si cabe más porque las temperaturas son más suaves. Eso sí, a
ntes de empezar el "shopping" necesitas pasar por Recepción para que te den tu código bidi sobre el que poder aplicar el descuento extra en el momento de la compra.
Before start the shopping you must go to reception to get your personal bidi code for getting the extra discount at the payment moment.
¡Feliz vuelta al cole y feliz compra!