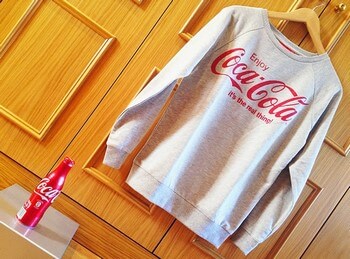 Años llevaba buscando una sudadera así. Y cuando digo años me refiero a muchos años, tantos que ni me acuerdo. Se la ví a una chica por las calles de Londres y desde ese momento la quise. Era una sudadera de Coca Cola (no camiseta, sudadera) en gris claro, tenía pinta de finita, no tenía capucha, ni cremallera, ni bolsillos. Tal vez fuera merchandising de la marca, no lo sé, el caso es que fue amor a primera vista.
I wanted this sweatshirt since I saw a girl wearing it on the streets of London long time ago. A Coca Cola sweatshirt in light gray, soft, with no hood, no zipper and no pockets. Maybe it was a merchandising gift, I do not know, the fact is that it was love at the very first sight
.
Desde entonces no sé las horas que he dedicado a buscarla por internet, ni la cantidad de sitios en los que preguntado durante mis dos últimos viajes a Estados Unidos -incluyendo la mega tienda de

Coca Cola que

hay en Las Vegas

- pero nada, no daba con ella y desistí. Si en la meca de la marca no estaba, era una señal de que no existía, al menos para mí. Pero existía, claro que existía, lo que pasa que el destino tenía preparado nuestro encuentro de otra manera. No iría yo a por ella, vendría ella a por mí. En la inauguración de

Primark

Plenilunio

-la más grande que la marca tiene en España y que os conté

AQUÍ

-nos hicieron un pequeño recorrido por toda la tienda y casi me desmayo de la emoción cuando de repente, en la sección de sudaderas, apareció ante mis ojos. Os podréis imaginar que, directamente y sin pestañear, me fui a por ella.
Since then I don't know how much time I've been looking for it on the net and asking for it in several american shops (during my travels around USA) even the Coca Cola Store in Vegas, but I didn't find it so I stopped looking for it. But destiny calls to the openning of the Primark biggest shop in Spain and magicaly there it was.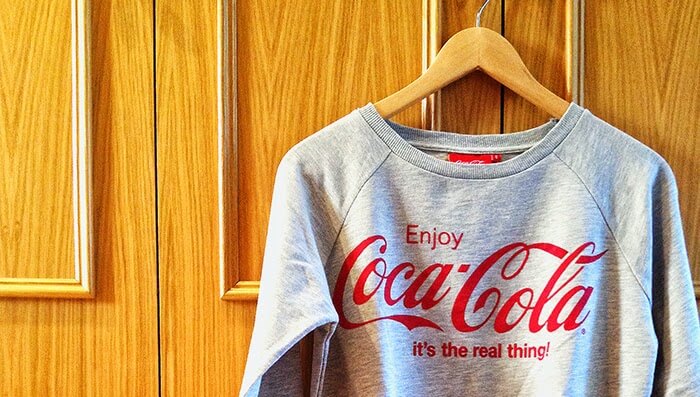 Pero

Coca

Cola

tenía más cosas preparadas para mí aquel día. Por la tarde, mientras me dedicaba a ese fantástico y apasionado momento de hacer la compra, en el lineal de la marca apareció, junto con otras tantas, esta preciosa botella lacada en rojo brillante digna de coleccionista que, también, de forma inevitable se vino conmigo a casa. Y no para bebérmela precisamente, sino como objeto deco para mi estudio.
But Coca Cola had more surprises for me that day. Shopping at the supermarket I saw in Coca Cola corner such an amazing shiny red bottle that I bought it as a deco object for my studio.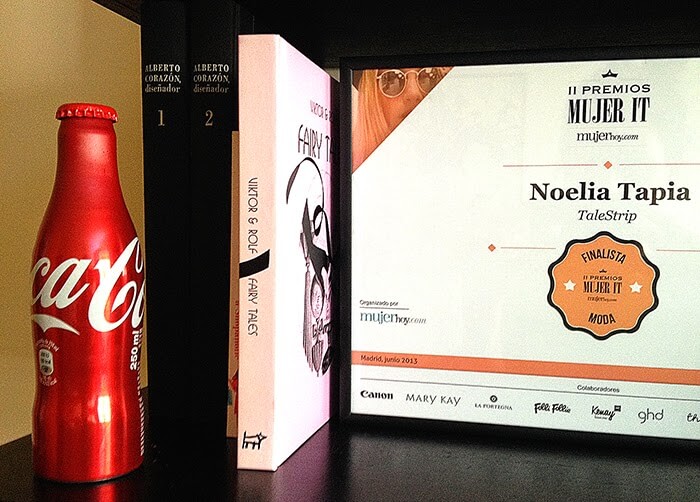 De noche -y ya con ella sobre la estantería- mientras navegaba por la red, sin buscar nada en especial, me tope con la última campaña que la marca ha lanzado en Vietnam apostando por el reciclaje de una forma especial y divertida.
No dejéis de verlo y de disfrutar de la chispa de la vida como hacen ellos.
At night surfing on the net I bumped into '2nd Lives' last Coca Cola campaign introducing a line of innovative caps intend to transform used bottles into fun and useful objects and encourage consumers to reuse and re-purpose plastic. A selection of these caps will be available in Vietnam. Enjoy the video as vietnamese people do!

Moraleja: Las cosas buenas se hacen esperar, llegan cuando quieren y les gusta presentarse de
golpe.
P.S:

Good things come

when you least expect them.